Sharing Views
Documentation from a remand cell at the Bergen Policy Authority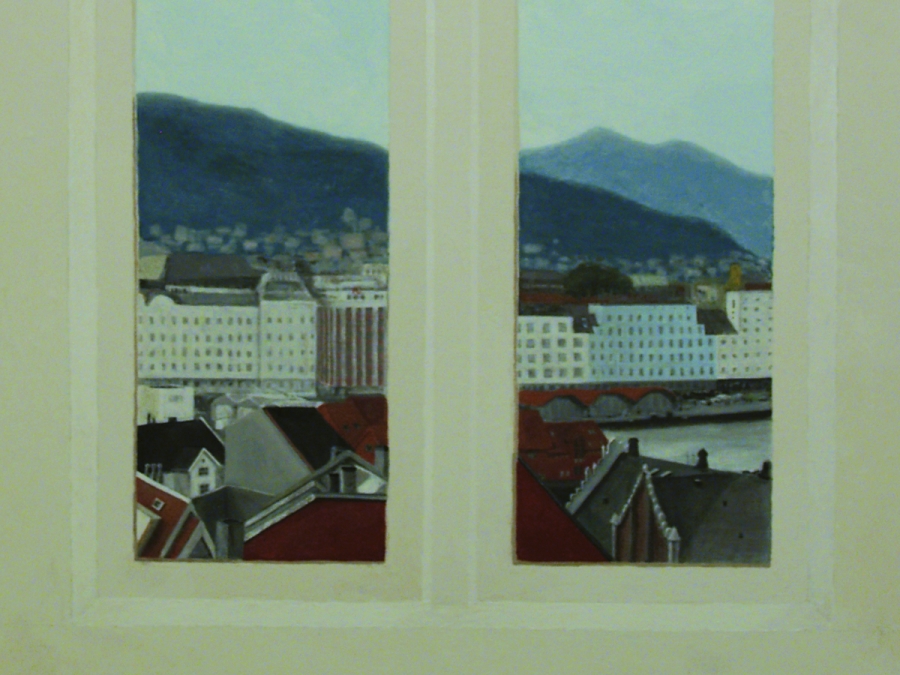 Acrylic paint on wall
The Bergen Policy Authority contacted the Academy of Fine Arts in Bergen with a request to have their remand cells decorated.

I wanted to use this opportunity to explore questions around imprisonment and freedom, and I considered the process of making the decoration a part of the art work. I wanted to add a separate reality to the cell – a reminder that there are parallel worlds of existence.

My intention was to add something to the room that could relieve the claustrophobic aspect of the situation, and which could be experienced as positive and calming. At the same time, I wanted the piece to open up for a multiplicity of interpretations, to make it interesting as a statement and an act.

I chose a window view from my own apartment in Bergen as the image. I painted the window in real size, and aimed for a naturalistic look. I wanted the window to be experienced as an illusion at first sight.

For several weeks, I was standing inside the cell painting. It was claustrophobic and depressing, and I was continuously distracted by desperate screams from other cells in the corridor. I couldn't work more than three hours a day.

By painting a window, I made the function of the room explicit: it is intended to lock people in. By painting my own window and the view I look out on every day, I added something personal to the room. Something resembling home emerged in the cell. At the same time, it was only a painting.

After completing this work, I established a new relationship to the view from my apartment – when I looked out of my window at home, I often started thinking about the prison cell.